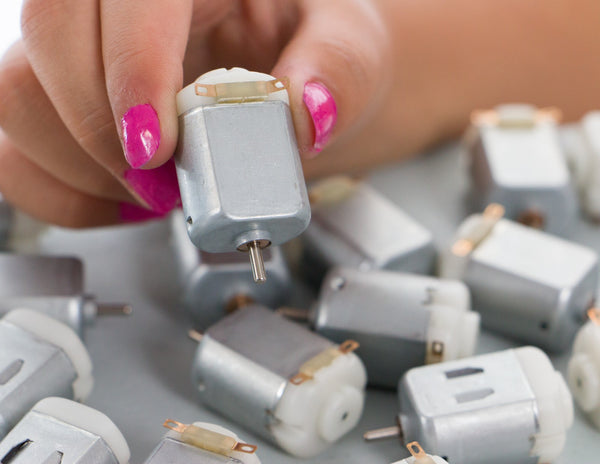 Small 1.5-3V Electric Motor
NOTE: If working with

 

younger

 

age groups, or Wiggle Bot

 

or

 

Air Racer

 

activities, we recommend the

 

Motor With Attached Leads for best results. Our project motors, while durable, do require a careful touch when attaching and reattaching the leads to terminals. For repeated uses or younger children, please consider the attached leads for sturdier innovation!
TeacherGeek 1.5-3V project motors are a fantastic way to power all sorts of STEM | STEAM | Maker projects, from motor-powered boats to electric vehicles or even wiggle-bots. Lightweight, durable and consistent in output, they work fabulously as "mini" electrical generators for wind turbine projects.
Pair with a motor mount and power by attaching alligator clip leads to AA batteries (not included). Mount to dowels or project sticks to create propellers, fans or transmissions. 
An essential component for the classroom, maker space, science fair, after school club, summer camp, scout troop or kitchen table innovators. There's no limit to the innovation when you're motorin' with TeacherGeek!
The "little sibling" to our 3-6V Electric Motors
Specifications:
Motor Shaft Diameter: 2mm

Operating

 Voltage: 1 to 3V

No Load: Current: .34A max, Speed: 10200rpm +-10%

Rated Load: 33x15mm fan. Current: .85A max, 8000rpm +-12%

Start Voltage: .5V
You may want to use these motors with: