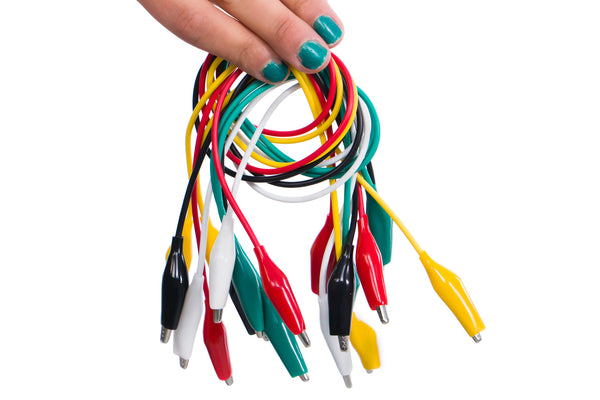 Easily hook up any STEM | STEAM | Maker project with these high-caliber alligator clip leads (otherwise known as test leads). Carefully connect the crimped ends to motor terminals, battery holders or circuits to securely conduct electricity. 
Utilize them generously when prototyping, with wiggle bots, electronic bugs, wind turbine labs, or your own creations. Works great in the classroom or for kitchen table DIY projects. Brightly colored, great for little hands. Colors may vary.

Note: Leads are generally used in pairs. If ordering a "single", make sure to order two.
At A Glance:
High-caliber alligator clip test leads - designed specifically for STEM | STEAM | Maker | Classroom use

Crimped ends easily hook up to motors, terminals and components

Vinyl comfort grip - simple to squeeze, attach and detach

Come in a variety of BRIGHT colors - great for prototyping circuits!