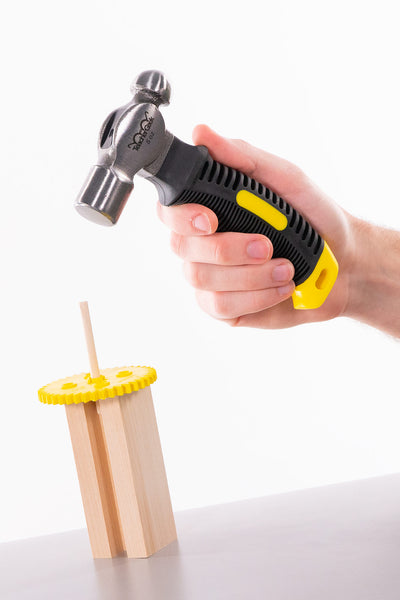 This mini project hammer is an ideal tool for tapping components utilized in the TeacherGeek build system. From connector strips, wheel hubs, hardware, perpendicular blocks, recycling bin components to wooden dowels, kids really tap, push and hammer their inventions with ease and precision. Pair with a tapping block for increased innovation.
With a soft, vinyl comfort grip contoured for little fingers and an appealing stubby size, the hammer is durable, weighted and able to withstand abuse. Complete your DIY tool set or share in a classroom setting - child safe, and reusable. Hammer all over the world and start your maker movement!
At A Glance:
6" (15cm) stubby mini hammer project hand tool

Perfect for STEM | STEAM | Maker Space education, DIY projects, science fairs, engineering competitions, home construction, model building, clubs

Magnetic head - holds nails for ease and one-handed starting

Soft vinyl comfort grip - great for little fingers!

Tap, push, hammer, pull and press TeacherGeek and other building components together with ease and precision
Note: This is an educational product and not a toy. By U.S. regulation, it is intended to be used by children ages 7 and above with adult supervision.