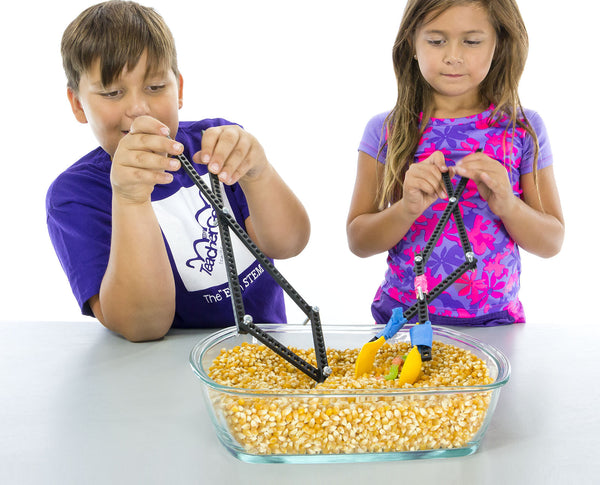 Grab Lab Activity Overview
Have you ever seen a bird catch a worm or a chipmunk stuff their cheeks? How do they do it? Animals have evolved some pretty amazing grabbers and tools over time. In this activity, construct your own Simple Grabber out of TeacherGeek Connector Strips and screws, then design and build it better to be like our feathered and furry friends. Download the Kid's Engineering Challenge document for a quick Build Guide and how to set up Challenges to build grabbers like eagles, robins, monkeys, chipmunks, and even our own human hands!
When working on this activity, start with the Build Guide, then move on to the Engineering Challenges.
MS Word or PDF - Which document format should you download? Always download the PDF document, unless you want to edit/change it. If you want to edit/change the document, download the MS Word (Microsoft Word™) version.
     Build Guide     
Start by creating a simple grabber using the Build Guide. This will be a great design to get you started. You'll begin to create your own amazing designs during the Engineering Challenges.
     Engineering Challenges     
It's time to redesign your Reacher to grip, dig, and use objects, just like animals would in the wild! Download the Engineering Challenge and Notebook pages to get you started.
     Optional Resources     
Optional Scenario: Tidal Pool Grab Lab Challenge:

Download the PowerPoint Presentation-- Immerse yourself in an Engineering Challenge inspired by marine biologists and tide pool ecosystems. Your reacher is a marine instrument, grabbing and observing diverse specimens such as octopi and brittle sea stars, while also seeking innovative methods of removing pollution without damaging delicate coral reefs.
STEAM Market-It Challenge
Add the STEAM Market-It Challenge to any completed TeacherGeek activity to teach students how to turn their TeacherGeek design into a retail product. Students will learn the 4 'Ps' of marketing - Product, Placement, Price and Promotion. Students have the option of completing a commercial, a billboard or retail packaging as a summative assessment.
Grab Lab Components
What's in the Grab Lab Activity?
| | | |
| --- | --- | --- |
| Component: | 10pk Quantity: | Single Quantity: |
| Connector Strips | 40 | 4 |
| 50mm (2") Dowels | 20 | 2 |
| 150mm (6") Dowels | 20 | 2 |
| Perpendicular Blocks | 20 | 2 |
| 1" Screws | 60 | 6 |
| Hex Nuts | 40 | 4 |
This is an educational product and not a toy. It is intended for use by ages 5 and above with adult supervision.
Science & Math Standards
TeacherGeek products fit proposals, grants or lesson plans with ease! Explore more resources below:
Next Generation Science Standards

NGSS Standards Download -
PDF
NGSS Standards Spreadsheet -
Editable /Searchable Excel Sheet


International Technology & Engineering Educators' Association Standards

ITEEA Standards Download -
PDF
ITEEA Standards Spreadsheet -
Editable/Searchable Excel Sheet