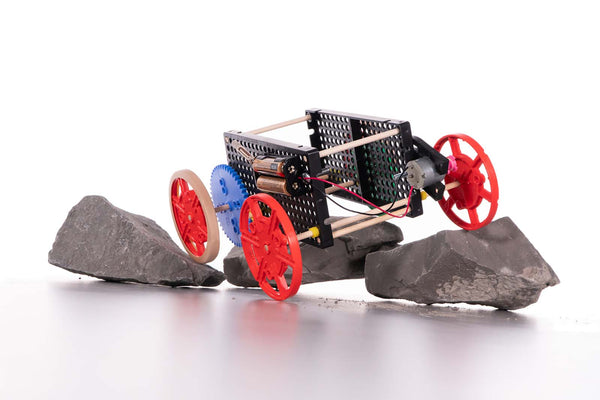 Electric Race Car Activity Pack
Ready? Set... GO!

Burn some rubber and engineer your very own battery powered car with the TeacherGeek Electric Car Activity Pack. Our build system makes it simple and fun to experiment with your design, learning as you try out new race car designs. Take away a wheel, construct a slimmer frame, or build something entirely new with your parts! It's real DIY electronics and real engineering, meaning the making and excitement never end.
Electric Race Car Educational Goals
Utilize the design and engineering process

Encourage creativity, problem solving, and critical thinking

Learn about electric power

Innovate (Build your own unique car)
When working on this activity, start with the Build Guide.
     Build Guide     
MS Word or PDF - Which document format should you download? Always download the PDF document, unless you want to edit/change it. If you want to edit/change the document, download the MS Word (Microsoft Word™) version.
Once you finish the Build Guide, your Electric Race Car is ready! At the end of Build Guide you will find many challenges to make it go farther, faster, and available for all-terrain. Download the Engineering Notebook to help you on this journey. Find this in Optional Resources below.
     Optional Resources     
Engineering Notebook
Available at two different learning levels, the TeacherGeek Engineering Notebook is designed to help students cycle thru the Design & Engineering Process and help them innovate and invent new designs. Use an Engineering Notebook page for each iteration of design. It is recommended that extra pages are printed and on-hand during activities.
STEAM Market-It Challenge
Add the STEAM Market-It Challenge to any completed TeacherGeek activity to teach students how to turn their TeacherGeek design into a retail product. Students will learn the 4 'Ps' of marketing - Product, Placement, Price and Promotion. Students have the option of completing a commercial, a billboard or retail packaging as a summative assessment.
TeacherGeek Tools You'll Need
What tools will you need to do this activity?
Process

Process Description

Recommended Tool 

Alternate Tool

Cutting

Cutting dowels, strips, recycling bin items, etc.

Saw, Pruning Shears

Reaming

Change splined holes in components from press fit (dowels press and stay) to loose fit (dowels are able to slide and rotate).

#3 Drill Bit and Drill

Screwing

Tighten and loosen screws

None

Holding and Pulling

Hold nuts, pull apart components

Pliers (optional)

None

 

Soldering

 

Soldering wires to motors or other wires 

Soldering Iron Package (optional)

None
Sets of tools can be found here.
Make your Electric Car even better by incorporating recycling bin material.

Additional Supplies Needed to Build an Electric Car: This activity requires AA batteries, TeacherGeek Tool Set (reamer, multi-cutter, pliers, screwdriver, hammer, slider block) and a ruler.
Electric Car Components
What's in the Electric Car activity?
| | | |
| --- | --- | --- |
| Component: | 10pk Quantity: | Single Quantity: |
| Connector Strips | 40 | 4 |
| Hole Plates | 20 | 2 |
| 70mm Pulleys | 10 | 1 |
| 55.5mm Pulleys | 10 | 1 |
| 25.5mm Pulleys | 10 | 1 |
| 9mm Pulleys | 10 | 1 |
| 50 Tooth Gears | 10 | 1 |
| 40 Tooth Gears | 10 | 1 |
| 20 Tooth Gears | 10 | 1 |
| 10 Tooth Gears | 10 | 1 |
| Wheels | 40 | 4 |
| Rubber Band Tires | 40 | 4 |
| Battery Holder | 10 | 1 |
| Small Rubber Bands | 100 | 10 |
| 300mm Slide-Stop Material | 3 | 1/3 (100mm) |
| Perpendicular Blocks | 40 | 4 |
| Dowels | 80 | 8 |
| Stop Clips | 40 | 4 |
| Angle Brackets | 20 | 2 |
| 1½" Screws | 20 | 2 |
| Hex Nuts | 60 | 6 |
| Locking Nuts | 20 | 2 |
| Fender Washers  | 20 | 2 |
| 5/8" Screws  | 60 | 6 |
| Project Motor | 10 | 1 |
| Project Motor Mounts | 10 | 1 |
| Motor Adaptor Pins | 15 | 1 |
Science, Math & Engineering Standards
TeacherGeek products fit proposals, grants or lesson plans with ease! Explore more resources below:
Next Generation Science Standards

NGSS Standards Download -
PDF
NGSS Standards Spreadsheet -
Editable /Searchable Excel Sheet


International Technology & Engineering Educators' Association Standards

ITEEA Standards Download -
PDF
ITEEA Standards Spreadsheet -
Editable/Searchable Excel Sheet