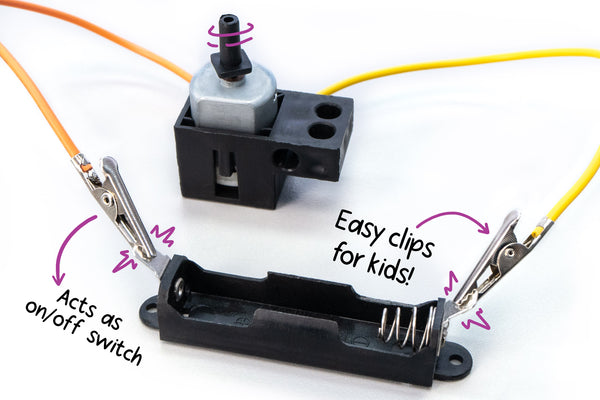 Small Motor w/Leads & Mount, Adapter Pin, AA Single Battery Holder
Need to power a STEM | STEAM | Maker contraption? We have the solution:
Use our 1.5-3V motor with alligator clip leads that already has a motor mount and adapter pin attached - also includes a AA single battery holder. Squeeze the alligator clips to attach them to the battery holder terminals. Turn the motor on and off by attaching and detaching the leads.
The motor turns at the perfect speed for most STEM | STEAM | Maker Ed projects. Use these for motor powered cars, boats, wiggle bots, and other inventions. 
Motor Shaft Diameter: 2.3mm
Lead colors will vary. Battery not included.
If you're planning on using this battery powered motor, you might find these helpful:
1.5-3V Motor Mounts (included) have a hole to connect to TeacherGeek dowels. 
Build Your Own Propeller Kit -Design, build and evolve your own unique propeller. It mounts directly onto the adapter pin of this motor.