TeacherGeek Activity Document Master Log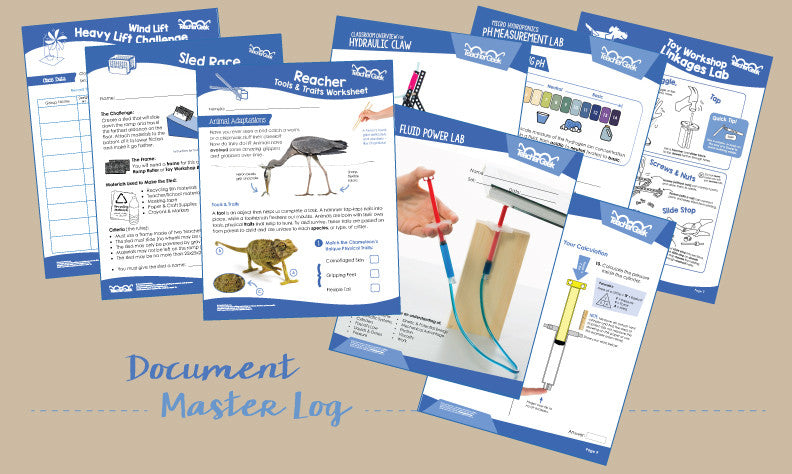 Looking for an activity?
We recommend using teachergeek.com/learn to explore our curriculum - it allows you to filter activities by grade, topic, and more!  But if you want to see curriculum for every TeacherGeek activity, you're in the right place.
About Our Documents
Most documents are editable in MS Word, but using the PDF format is recommended (if you're not editing anything).
All answer keys are password protected. If the password didn't ship with your order, reach out to sales@teachergeek.com
Activity Documents
All Activities – General Documents (Updated December 2020)
TeacherGeek Quick Start Guide - PDF
Simple Engineering Notebook - PDF | Video
Engineering Notebook - PDF | Video
Patent Application - PDF
STEAM Market-It Challenge - PDF or MS Word
Printable Ruler - PDF
Air Racer Documents
Atwood's Machine Documents (Updated December 2019)
Half Atwood's Lab - PDF or MS Word | Answer Key
Bean Sorter Documents
Build Guide - PDF
Breaking Bridges Documents (Updated October 2019)
Grades 3-5
Classroom Overview: PDF or MS Word
Go Guide: PDF or MS Word
Testing Guide: PDF or MS Word
Optional Distance Challenge: PDF or MS Word
Breaking Bridges Engineering Notebook: PDF
Grades 6-12
Classroom Overview: PDF or MS Word
Go Guide: PDF or MS Word
Testing Guide: PDF or MS Word
Hooke's Law Lab: PDF or MS Word | Answer Key
Software Analysis: PDF or MS Word
Physics Analysis: PDF or MS Word
Optional Distance Challenge: PDF or MS Word
Breaking Bridges Engineering Notebook: PDF
Build a Boat Documents (Updated July 2020)
Go Guide: PDF or MS Word | Video
Propeller Design Lab: PDF or MS Word
Catch the Bug Ultimate Electronic Activity Documents
Full Guide (without lab) - PDF
Guide With Lab
Part 1: Body Build - PDF
Part 2: Electronics Lab - PDF
Part 3: Final Wiring Guide - PDF
Crazy Contraptions Documents
Story-Telling Challenge - PDF
Chain Reaction Challenge - PDF
Mechanical Advantage Lab - PDF or MS Word
Cutouts - PDF
Example Build Guide - PDF
Electromagnet Activity Pack Documents (New September 2021)
Magnetic Materials Lab - PDF or MS Word
Electromagnet Crane 2.0 Documents (New September 2021)
Magnetic Materials Lab - PDF or MS Word
Clip Hanger Challenge - PDF or MS Word
Super Sort Challenge - PDF or MS Word     
Electromagnetic Crane Documents (Replaced with Electromagnet Crane 2.0: September 2021)
Electromagnet Build Guide with a Lab – PDF or MS Word
Crane Build for an Electromagnet - PDF or MS Word
Electromagnet Overview - PDF or MS Word
"In The Bucket" Challenge - PDF or MS Word
"Clip Hanger" Challenge - PDF or MS Word
"Super Sort" Challenge - PDF or MS Word
"Super Sort" Arena - Single Player - PDF
"Super Sort" Arena - Two Player - PDF
Challenge Scorecard - PDF
Electric Racer Documents
Electric Racer Build Guide – PDF or MS Word
Flag Waver Documents
Build Guide - PDF
Fluid Power Lab Documents
Fluid Power Lab (Imperial Units) – PDF | Answer Key
Fluid Power Lab (Metric Units) – PDF | Answer Key
Gears Tinker Set Documents (Update: November 2020)
Ratio & Proportion Lab – PDF or MS Word
Mechanical Advantage Reference Sheet - PDF or MS Word
Obstacle Course Challenge - PDF or MS Word
Kinetic Sculpture Challenge - PDF or MS Word
Amusement Park Challenge - PDF or MS Word
Gears & Pulleys Tinker Set Documents (Replaced with Gears Tinker Set: May 2019)
Basic Build Guide – PDF or MS Word
Advanced Build Guide - PDF or MS Word
Basic Ratios & Proportions Lab - PDF or MS Word
Design & Engineering Challenge - PDF or MS Word
Gears & Pulleys Tinker Set Engineering Notebook - PDF
Grab Lab Documents (Updated August 2017)
Grab Lab All-in-One – PDF
Build Guide - PDF
Tools & Traits Worksheet - PDF or MS Word
Grab Lab Engineering Challenge - PDF or MS Word
Grab Lab Engineering Notebook Page - PDF
Tide Pool Grab Immersive Challenge - PowerPoint Presentation
Hazmat Challenge
Challenge Document: PDF or MS Word | Video
Hazmat Arena: PDF
Patent Certificates: PDF
Hydraulic Arm (Advanced) Documents
Hydraulic Arm Classroom Overview - PDF or MS Word
Advanced Build Guide – PDF or MS Word
Fluid Power Lab - PDF | Answer Key
Design & Engineering Challenges - PDF or MS Word
Hydraulic Arm (Basic) Documents (Updated January 2018)
Basic Build Guide (Elementary) – PDF or MS Word
Hydraulic Claw Documents (Updated September 2020)
Go Guide - PDF or MS Word | Video
Fluid Power Lab - PDF | Answer Key
(Micro) Hydroponics Documents
Classroom Overview - PDF or MS Word
Hydroponics Worksheet - PDF or MS Word
pH Lab - PDF or MS Word
Nutrient Solution Lab - PDF or MS Word
Design & Engineering Challenges - PDF or MS Word
Judo-Bot Documents (Updated April 2017)
Fluid Power Lab – PDF | Answer Key
R-R-Rumble! Challenge - PDF or MS Word
Heavy Weight Challenge - PDF or MS Word
Pick & Sort Challenge - PDF or MS Word
Maker Cart Documents
Maker Cart Overview - Video
TeacherGeek Maker Cart Manual - PDF
TeacherGeek Maker Cart Component List - PDF
Mini Wind Turbine Documents (Update: July 2020)
Go Guide - PDF or MS Word | Video
Blade Design Lab - PDF or MS Word
Types of Wind Turbines - PDF
Mousetrap Vehicle 2.0 Documents (New: October 2021)
Mousetrap Vehicle Documents (Replaced with Mousetrap Vehicle 2.0 Documents: October 2021)
Build Guide - PDF
Mousetrap Long Shot Challenge – PDF or MS Word
Mousetrap Sprint Challenge - PDF or MS Word
Pick-Up Stick Documents (New September 2021)
Magnetic Materials Lab - PDF or MS Word
Clip Hanger Challenge - PDF or MS Word
Super Sort Challenge - PDF or MS Word
Powered Pets Documents (New May 2021)
Cylinder Fill Guide - PDF or MS Word
Projectile Launcher 2.0 Documents (New August 2020)
Go Guide - PDF or MS Word | Video
Precision & Accuracy Lab - PDF or MS Word
Hit the Target Lab - PDF or MS Word
Projectile Motion Lab - PDF or MS Word
Projectile Launcher (Basic) Documents (Replaced with Projectile Launcher 2.0: August 2020)
Classroom Overview - PDF or MS Word
Basic Build Guide - PDF or MS Word
Precision & Accuracy Lab - PDF or MS Word | Answer Key
How to Hit the Target: Graphing - PDF or MS Word
Bull's-Eye Challenge - PDF or MS Word
Moving Target Challenge - PDF or MS Word
STEM Siege Challenge - PDF or MS Word
Projectile Launcher (Advanced) Documents (Replaced with Projectile Launcher 2.0: August 2020)
Advanced Build Guide - PDF or MS Word
How to Hit the Target: Kinematic Equations - PDF or MS Word
Pump It! Lab Documents (Updated May 2018)
Rubber Band Racer Documents (Updated May 2020)
Basic Go Guide - PDF or MS Word | Video
Advanced Go Guide - PDF or MS Word | Video
Ramp Roll Lab - PDF or MS Word
Energy Lab - PDF or MS Word | Video
Atwood's Machine Lab - Scroll up to Atwood's Machine Section for documents
Mechanical Advantage Reference Sheet - PDF or MS Word
Forces & Friction Worksheet - PDF or MS Word
Sled Race Challenge - PDF or MS Word
Mars Rescue Mission - Immersive Challenge PowerPoint Presentation
Sail Car Documents (Updated July 2020)
Grades Pre-K - 3
Go Guide - PDF or MSWord | Video
Pre-K Push Pull Lab - PDF or MSWord | Video
Pre-K Wind Lab - PDF or MSWord | Video
Grades K-1 Push Pull - PDF or MSWord | Video
Grades K-1 Wind Lab - PDF or MSWord | Video
Grades 2-3 Wind Lab - PDF or MSWord | Video
Grades 2-3 Balanced Forces Lab - PDF or MSWord | Video
Crosswind Challenge - PDF or MSWord | Video
Pre-K Engineering Notebook - PDF or MSWord
K-3 Engineering Notebook - PDF or MSWord
Grades 4 - 12+
Basic Go Guide - PDF or MSWord  | Video
Advanced Go Guide - PDF or MSWord | Video
Balanced Forces Lab - PDF or MSWord | Video
Forces & Motion Lab - PocketLab Edition PDF or MSWord | Answer Key | Video
Inertia Lab - PocketLab Edition PDF or MSWord | Answer Key | Video
Momentum Lab PDF or MSWord | Answer Key | Video
Atwood's Machine Lab - Scroll up to Atwood's Machine Section for documents
Crosswind Challenge PDF or MSWord | Video
Headwind Challenge PDF or MSWord | Video
Standards Resource Documents
Next Generation Science Standards
NGSS Standards Download – PDF or Excel Spreadsheet
International Technology & Engineering Educators' Association Standards
ITEEA Standards Download – PDF or Excel Spreadsheet
Straw Rockets Documents (New May 2021)
Sumo-Bot Documents
Build Guide - PDF      
Super Spring Scale Documents
Spring Scale Build Guide - PDF or MS Word
Spring Scale Graduations Templates - PDF
Printable Ruler - PDF
Total Controller Manual
Total Controller Manual - PDF
Toy Design Workshop Documents
Linkage Lab - PDF
Engineering Challenge - PDF or MS Word
Wiggle Bot Documents (Updated July 2020)
Wiggle-Bot Overview - PDF or MS Word
Regular Go Guide - PDF or MS Word | Video
Super Go Guide - PDF or MS Word | Video
Electricity Lab - PDF or MS Word
Wave Lab - PDF or MS Word
Lab Answer Keys - PDF
Example Wiggle-Bot Engineering Notebook - PDF
Wiggle-Bot Idea Sheet - PDF
Wind Lift Documents (Updated July 2020)
Go Guide - PDF or MS Word | Video
Energy Lab - PDF or MS Word
Blade Angle Lab - PDF or MS Word
Blade Area Lab - PDF or MS Word
Printable Protractor - PDF
Printable Ruler - PDF
Example Wind Lift Engineering Notebook - PDF
Wind Pump Documents (Replaced with Wind Pump 2.0: September 2021)
Wind Pump Build Guide – PDF
Blade and Hub Build – PDF
Wind Stand Build Guide - PDF
Wind Pump 2.0 Documents (New September 2021)
Energy & Power Lab - PDF or MS Word
Types of Wind Turbines - PDF
Wind Stand Documents
Yeast Mobile Documents