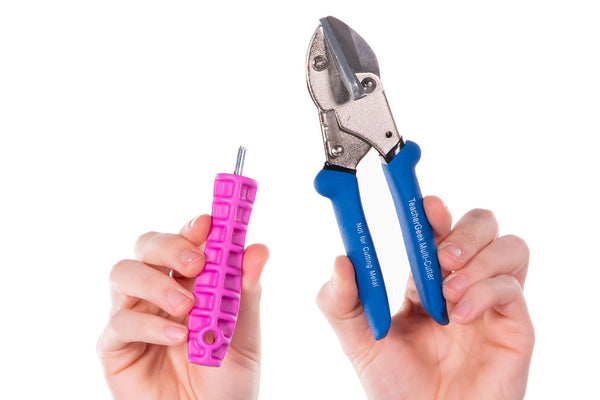 Multi-Cutter and Reamer Set
This exclusive set features two of the most commonly used tools for assembly of TeacherGeek systems. The TeacherGeek Multi-Cutter provides a safe and simple way to cut plastic connector strips, dowels, wooden pieces or recycling bin elements. The vinyl-comfort grip is designed specifically for little hands, with labeled angles on the cutting plane for precise measurement and innovation. Use for science, maker spaces or even scrapbooking! The Hand Reamer changes the holes in TeacherGeek components from a press fit (where the dowel remains stuck) to a loose fit (where the dowels spin and slide). Create unique wheel axles, pulleys and other mechanisms with this invaluable tool. Now available in bright, bold TeacherGeek purple!
Note: TeacherGeek Reamers come with a lifetime warranty - if it breaks, we'll replace it.
At A Glance:
The most commonly used TeacherGeek tools for your Maker Space, DIY Workshop, Classroom, Science Fair or STEM | STEAM | Engineering project

Construct just about any TeacherGeek activity or STEM | STEAM project one could imagine

Real tools - child-safe, soft grips perfect for little hands

A Single Set Contains: (1) Reamer, (1) Multi-Cutter

TeacherGeek Reamers come with a lifetime warranty