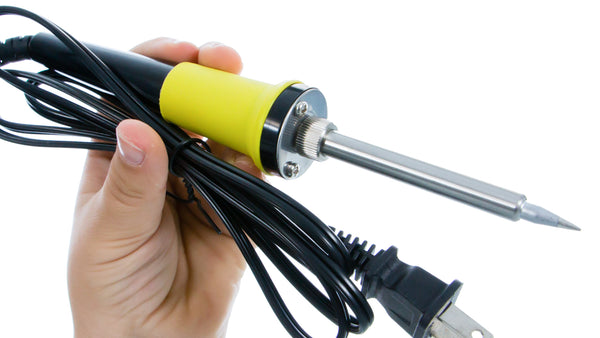 Soldering Iron - 30W, High Quality w/ Ceramic Element
This quality soldering iron will quickly become your favorite. It features a ceramic heating element, sleeved tip and rubber grip. It's affordable, built tough, powerful, and made for lead-free solder. You'll find it in countless maker spaces, classrooms and home workshops. 

Considerations when purchasing a soldering iron:
Cord:

Is the cord durable and appropriate for the wattage? We have had cheap soldering irons catch on fire. 

Element:

Does the soldering iron have a coiled element (cheap), or ceramic element (better)?

Wattage:

Lead-free solder requires more heat than traditional solder. We recommend soldering pencils over 25W.

Lead Free:

You should be using lead-free solder. Is your soldering iron compatible with it?

Construction:

Cheap soldering irons can fall apart, and their handles often get dangerously hot. Is your soldering iron safe?

Soldering Tip:

How does the tip connect to the body? Higher quality soldering irons use tips that slide over the heating element, rather than screws. This configuration transfers heat quicker and is more reliable over time.

Power Requirement: 110V, 30W
Replacement Tips: 1823-98
Notice for California residents:
Warning: Cancer and
Reproductive Harm -
www.P65Warnings.ca.gov