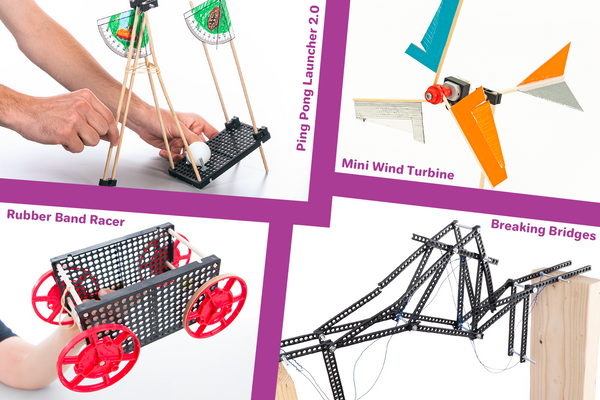 Bridge/Turbine/Launch/Race Combo
Build FOUR different STEM/STEAM/Maker projects with the Bridge/Turbine/Launch/Race Combo Kit! Start with whichever project you like, complete the example build, then modify it to make your own unique designs. Then take it apart and build the next one! Or stray from the projects, entirely, and build something completely unique! Each project has tons of optional challenges and labs to get kids exploring science and innovating with engineering. To see the activities for each project, click the project links below and scroll to the Documents section.
Please Note: Each Combo Kit includes enough TeacherGeek building components to complete one build at a time. In order to start a new build you must first deconstruct your previous build so you can re-use some of its parts.
Want to learn more about how Combo Kits work? Check out the Start Guide included in each kit!
Age Range
4
5
6
7
8
9
10
11
12
13
14
15
16
17
18+
Customize this activity for the highlighted ages with tons of free labs and challenges!
This is an educational product and not a toy. Adult supervision is required.
Videos
Projects
Breaking Bridges
Design, Build, Test, Repeat!!! TeacherGeek bridges allow you to do what was never-before possible; redesign and retest, learn through experimentation and failure, grow understanding while evolving designs. There's no gluing (hot glue burns or waiting for glue to dry). Every design can be improved so students are never done.This activity comes with downloadable engineering challenges and optional labs. For ages 8-22 (different challenges/labs for different ages). Optional labs teach about structural shapes, deflection, tension & compression, software analysis, Hooke's Law, elastic and plastic deformation and member forces on trusses.
Mini Wind Turbine
Design a turbine to harness the power of the wind and convert it into electricity. Start with your example build, testing through inquiry and experimentation. Then, iterate new designs and additions to transform the wind turbine into your own unique design. Create the blades utilizing recycling bin materials. Adjust the angle, pitch and amount of blades to observe the electrical output of your wind turbine. We included plenty of extra components to try different designs.
Projectile Launcher 2.0
Hit 'em with your best shot! Build your own Launcher with TeacherGeek - send ping pong balls flying, marking the trajectory and distance of your shots and targets. Redesign your launcher with greater accuracy and precision through the optional labs and graphing sheets, then compete in exciting design challenges. Change one variable at a time, utilizing scientific and engineering methods to successfully hit targets. Use recycling bin materials or extra components to build a kicker, plunger, trebuchet, or slingshot – your imagination is the limit!
Rubber Band Racer
Design and engineer a vehicle that is propelled by the energy stored in rubber bands. Make it go for distance, or stop with precision. Design it to go fast, or cross difficult terrain. Rubber band racers can be easily redesigned/reconfigured, so every day you can have a different challenge. Learn by experiencing potential and kinetic energy, simple machines, friction, elasticity and ratios. Learn how friction can help, and hurt your racer. This activity is one of our most popular.